When and How to Use Perfect Keto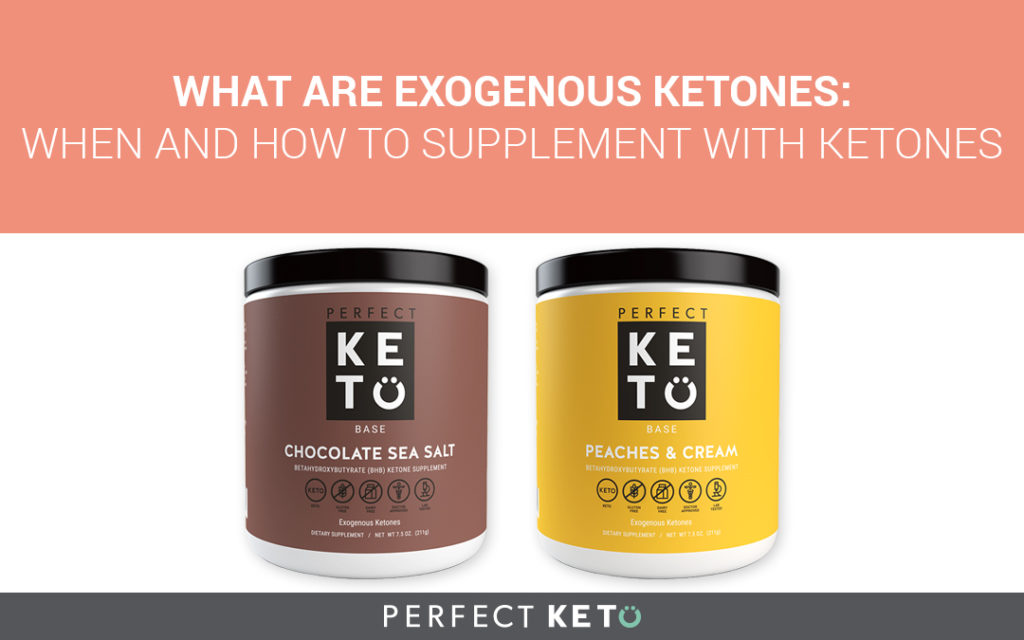 Exogenous ketones, or ketone bodies taken externally instead of created by the body, are fairly new on the market. Even so, they are rising quickly in popularity. If you're not sure how and when to use Perfect Keto Base exogenous ketones, this article will break down the different ways you can use the product to meet your needs and support your health. Then, we'll talk about the best times to utilize our MCT oil powder, too
WHEN AND HOW TO TAKE PERFECT KETO BASE
The best times for taking Perfect Keto Base really depend on your goals, but we typically recommend beginning with ¼ to ½ scoop and going up from there. The exact time and amount can vary based on what works best for you. That being said, we'll cover some of the most common ways to take Perfect Keto Base.
GETTING INTO AND STAYING IN KETOSIS QUICKLY
One of the most common reasons for taking exogenous ketones is getting and staying in ketosis. If you're just starting the ketogenic diet or are wanting to get your body back into ketosis after a period of being out of it, Perfect Keto Base provides the perfect opportunity for this because it lets the body know you want it to use ketones for fuel first. In other words, taking ketones will allow you to enter ketosis more quickly and see results faster than if you were simply eating very low carb ketogenic for a few days.
When and how to take it: Take ½ a scoop whenever you want to get into ketosis quickly and/or right after a meal heavier on carbohydrates than usual.
CONSTANT FAT BURNING
To ensure your body continues burning fat for energy, taking Perfect Keto at anytime can give you that extra dose of ketones for fuel.
When and how to take it: One scoop at anytime in between meals for constant fat burning.
AVOIDING "KETO FLU" SYMPTOMS
Your body can react quite unpleasantly when transitioning from burning carbs for energy to using ketones. If your body still hasn't gotten to the point where it's efficient at fat-burning yet, the following, known as the "keto flu," can occur:
Bloating
Headaches
Irritability
Low energy
Fatigue
When this happens, you can take Perfect Keto to give the body more ketones for efficient energy as it transitions, which can help you avoid or at least greatly reduce keto flu issues.
When and how to take it: Over 3-5 days during your transition into ketosis, take smaller doses of ⅓ to ½ of a full scoop spread out each day.
SHARP MENTAL STATE
Have you ever eaten a carbohydrate-rich meal and experienced mental fog and a dip in energy soon after? That has to do with your body trying to move the glucose around to feed its different metabolic processes.
The blood-brain barrier  doesn't let glucose directly through to the brain for energy. However, ketones CAN get through the barrier more easily, meaning they'll provide a constant energy supply to the brain. Taking exogenous ketones allows you to provide the brain with 4-6 hours of boosted mental energy even if you're not constantly in ketosis.
When and how to take it: Take a full scoop on an empty stomach, preferably first thing in the morning.
ENERGY FOR EXERCISE
For athletes, exogenous ketones can be a life saver when it comes to ongoing energy for their intense activity. For quick, explosive movements, the body can either pull from your glycogen stores or make fuel from your fat. In each case, oxygen is required for both processes. There's also a big need for oxygen during endurance exercise, too.  Taking Perfect Keto ketones gives your body that immediate energy with less need for oxygen.
When and how to take it: Before a workout that will be 45 minutes or longer, take a full scoop. Then take another ½ of a scoop for every hour greater than two hours of continuous work you do.
As you can see, there are a lot of reasons and times that are great to take Perfect Keto Base, and each of our tubs come with 15 scoops of pure beta-hydroxybutyrate (BHB) for your ketone-fueled lifestyle needs.
OTHER IDEAS FOR TAKING PERFECT KETO BASE
Although Perfect Keto Base is great by itself—with two delicious flavors: Peaches & Cream and Chocolate sea salt—there are some fun and delicious ways to combine it with other things. Here are some ideas we've either tried ourselves or heard from customers: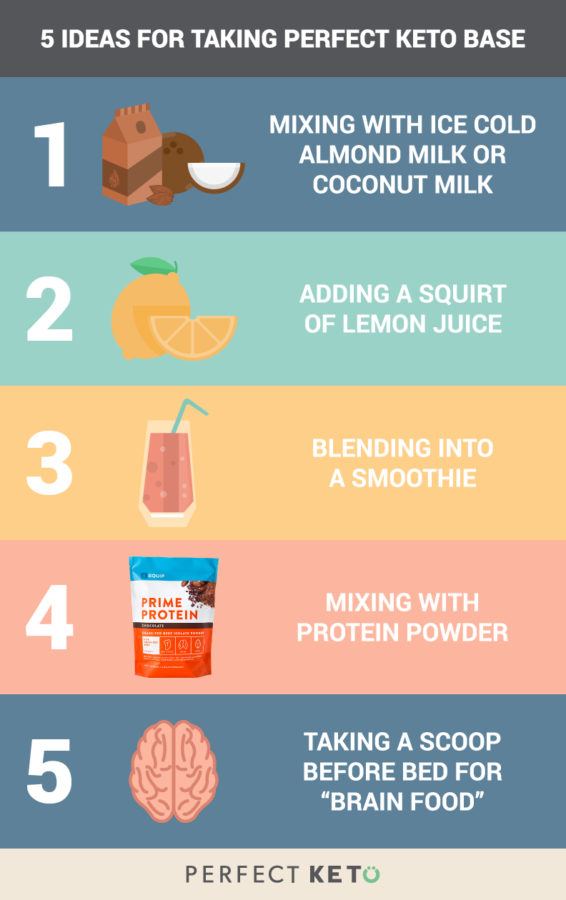 WHEN AND HOW OFTEN TO TAKE PERFECT KETO MCT OIL POWDER
Our MCT oil powder  is designed to give you quick energy immediately. Like the Perfect Keto Base, it assists you in getting into ketosis faster and staying there. Plus, it's easier to tailor to your needs.
You can take anywhere from ½ to 3 scoops of Perfect Keto MCT Oil Powder at a time, added to your favorite foods or drinks.
Here are some ways to take it specifically for certain benefits:
For staying in ketosis: Take a scoop with a higher-carb meal, or after the meal.
For fat loss: Take a scoop first thing in the morning or anytime in between meals.
For mental focus: Take one scoop on an empty stomach.
For workouts: Take a scoop before or during your workout to burn more fat to increase energy and decrease oxygen needs.
OTHER IDEAS FOR TAKING PERFECT KETO MCT OIL POWDER
There are many ways to use this powder! Here are some of our favorites, but feel free to experiment yourself:
In your morning coffee as substitute for creamer or for your affordable version of bulletproof bulletproof coffee
Stir it into whipped heavy cream for a keto-friendly dessert
Add to herbal tea
Add to your keto smoothie